COMMUNIQUE DE PRESSE
Pour émission immédiate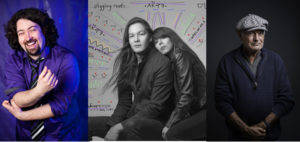 Le 6 mars 2019 Ottawa (Ontario) – Le Festival Grassroots d'Ottawa a fêté son huitième lancement aujourd'hui en compagnie d'un groupe de bénévoles, de commanditaires et des amoureux de musique au Pub Irene's dans le Glebe, Irene's Pub étant la maison spirituelle d'artistes et de musiciens depuis près d'un quart de siècle.  Bob Nesbitt, le fondateur et réalisateur du Festival a révélé la liste des artistes et les ateliers qui mettront en vedette la musique autochtone, franco-ontarienne et folk iconique avec une belle panoplie d'artistes établis et émergeants de tous âges. La participation de deux artistes locaux, Jack Pine (Gareth Auden-Hole) et Jill Jeffrey a apporté des interludes musicaux au lancement. Le Festival retourne à l'Eglise unie de Southminster du 25 au 28 avril 2019 dans le Vieux Ottawa Sud. Le Festival se terminera le dimanche chez Irene's avec une soirée avec les amis de Jack Pine et du Festival.
La tradition du Festival Grassroots d'Ottawa d'une soirée « Franco » se poursuivra pour une sixième année de suite toujours dans le but de promouvoir la découverte de la musique francophone par un publique majoritairement anglophone. Nommé pour sept Prix Trille d'Or, le groupe le Paysagiste, un projet solo en français, Dayv Poulin, promet au public un paysage sonore de musique pop-rock avec des éléments de folk et de country. Les chansons de cette artiste résonnent avec son public et offrent une expérience émotionnelle et intense. En ouverture de la soirée sera le chanteur et interprète franco-ontarien, François Lemieux, originaire de Blind River et connu pour ses tournées pans-canadiennes en français et en anglais. Lemieux vient d'émettre une collection autobiographique de chansons parlant de problèmes de toxicomanie, de tourmentes émotionnelles mais aussi de réconciliation et de guérison.
Nesbitt a programmé deux soirées thèmes pour le Festival 2019. Il a expliqué : « samedi soir offrira un répertoire exclusivement autochtone. Je planifie ceci depuis longtemps et je suis fier que mon rêve se réalisera cette année. ShoShona Kish, la partie femelle du couple en tête d'affiche pour le samedi soir, Digging Roots, a organisé et présenté le Sommet autochtone, un des évènements les plus importants du Festival Folk Alliance International (FAI 2019). Ce sommet a renforcé l'importance d'avoir un élément autochtone dans chaque festival.  Nous avons commencé à présenter des artistes autochtones dans notre festival depuis quelques années et nous sommes maintenant arrivés avec une soirée exclusivement avec de la musique autochtone. Nous en sommes très fiers ».
Les rockers folk, Digging Roots, lauréats de plusieurs prix musicaux, seront les artistes principaux pour cette soirée autochtone.  Le couple de force des Premières nations, ShoShona et Raven, forme l'équipe créative et d'inspiration de ce groupe musicale. Ils offrent un mélange de rock folklorique, de blues, de hip hop et de musique autochtone. Ce groupe s'engage à promouvoir la musique et la culture Anishinabek à un grand public.  Déjà lauréate de prix Juno et de Canada Folk Music, ShoShona est depuis peu également récipiendaire au Prix 2019 Spirit of Folk.
Le sage Algonquin Albert Dumont ouvrira la soirée avec une prière autochtone. Il vient de lancer un nouveau livre de poésie, « Sitting by the Rapids ».  Un atelier durant le jour proposera la poésie de Dumont ainsi que de la musique. La comédienne, chanteuse interprète, poète du mot parlé et artiste visuelle, Dorren T. Stevens, Algonquine de Kitigan Zibi (Québec) retourne au Festival Grassroots d'Ottawa en ouverture pour le groupe Digging Roots.
Le vendredi soir sera une célébration de musique folk avec le lauréat du Prix Juno, Ian Tamblyn en tête d'affiche. Tamblyn sera accompagné de grands artistes locaux tel que Rebecca Campbell, Fred Guignon et Pat Meyer. En spectacle rare, le groupe Toasted Westerns, se reprendra au Festival pour faire l'ouverture pour Tamblyn. Ce trio d'artistes multi-instrumentaux est composé de Jody Benjamin, Sally Robinson et Ann Downey.
La liste des artistes pour le Festival 2019 confirme que Grassroots d'Ottawa a toujours eu plus que 50 % d'artistes féminines dans sa programmation et ceci depuis les débuts du Festival en 2011. L'égalité, la diversité, l'inclusion et la participation du public ont toujours été parmi des valeurs fondamentales de ce Festival communautaire. « Il faut y participer afin de connaitre l'expérience du Festival Grassroots d'Ottawa », a dit Nesbitt.
Parmi les ateliers déjà annoncés sont du jardinage avec Mary Reid du Green Thumb Gardens, des jeux inuits, le Chorale Terry Penner Weekend Choir, les séances de musique jam, le concours Gil's Hootenanny Contest, des cercles de chants en groupe, une activité de participation du public sur l'estrade, une activité KidZone, et un grand favori du Festival, un atelier pour les bambins et les touts petits.  Sans ces activités et ateliers pour tous les membres de la famille, le Festival ne sera pas « Grassroots ».
Déjà confirmés comme artistes pour les spectacles durant le jour sont le tandem jazz Karen Oxom et Tim Bedner, Nona Grandea et le lauréat du meilleur chanteur de l'année 2008, Tannis Slimmon accompagné de l'artiste Lewis Melville.  Une violoniste « trick fiddler » agée de 16 ans, Jessica Wedden sera accompagnée de Jon McLurg, Jessica Pearon et le East Wind, Kevin Echker, Peter Woods, Christine Graves, Mark Evenchick, Nina Peterson, Steve Kennedy, Dave Doron, Howie Hooper et Jamie Anderson pour ne citer que quelqu'uns.
Des billets et laissez-passer pour les spectacles en soirée sont disponibles par l'entremise du site internet « Ottawa Grassroots Festival ».. Des billets individuels sont disponibles auprès des deux magasins de Compact Music. Les laissez-passer pour le Festival est au prix de 59 $ (via le site internet) ou 60 $ (au guichet). Le prix des billets individuels est fixé à 20 $ pour le jeudi, 30 $ pour le vendredi et 35 $ pour le samedi. Ceci est un rappel que la programmation durant le jour le samedi et le dimanche est gratuit pour tous et pour toutes.
Le Festival Grassroots d'Ottawa est un rassemblement de musique folk, de dance et de mot parlé qui se veut conviviale pour les familles. Le nom Grassroots explique son raison d'être.  Le Festival est un organisme à but non lucratif dirigé entièrement par des bénévoles. Il se fait une fierté avec ces ateliers participatifs, tout en encourageant l'esprit de communauté, la promotion de la diversité, la cultivation des talents de musique, tout ceci dans une espace conviviale pour toute la famille.
Médias – veuillez s.v.p. contacter :
Grace Smith, media@ottawagrassrootsfestival.com
Le Festival Grassroots d'Ottawa encourage l'esprit communautaire.
-30-