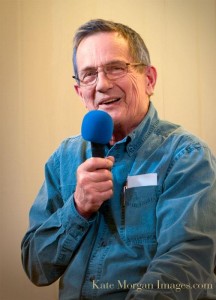 Music Festivals are founded for many different reasons, so I wanted to clarify why I wanted to found Ottawa Grassroots Festival, and how I view it. The Ottawa Grassroots Festival was created so that folks of all ages can enjoy community through music and other performing arts.
To start with, the idea of a small, simple folk festival, one driven by volunteers and with a minimum of formal structure, has been percolating in my mind for a few years now. Chris White and I have frequently talked over the years about how great the Blue Skies Music Festival is, and how wonderful the vibe is there. They are in their 39th year, a remarkable achievement for any festival. In that time, three generations have grown up there. I have attended Blue Skies for the last 5 or 6 years in a row, and Chris for much longer. We have often wondered if that Blue Skies feeling could be cloned and implemented closer to Ottawa.
We can't hope to duplicate Blue Skies in every way. For one thing, we don't have a farm to build it on! But there are aspects of Blue Skies that we can emulate.
Here is how I see our festival and how I would like to see it grow and evolve:
Probably the most important feature about our festival is that it is not Bob's festival or a Board's festival or any one individual's festival. It is a community festival comprised of a group of equals. I would like all individuals to be respected equally. It is true that the ultimate decision making rests with one person, but this is necessary for efficiency. For my part, I promise to listen to each volunteer and take their concerns and suggestions seriously. This is the way I have always led groups of people.
The goals of the Ottawa Grassroots Festival are to:

hold a community-focused event with an outreach to many;
bring together like-minded people to work for a common cause; and
promote live music in general and folk music in particular, along with other participatory arts.

The role of volunteers. Volunteers are essential to running this organization. Almost everything is being run by volunteers, the main exception being the artists, of course. For their part, volunteers need to be prepared to take on roles and run with them.
One of Blue Skies philosophies is to keep things simple. This is an approach I have followed myself in other things I have done. The principle here is: You don't have to spend large amounts of money to have fun.
I would like to see our festival oriented, at least to some extent, towards families. Some of the afternoon events at the 2012 festival will appeal to kids, but in 2013 we should be thinking about more programming for kids.
Prepared by Bob Nesbitt