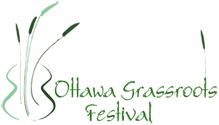 FOR IMMEDIATE RELEASE
The Ottawa Grassroots Festival holds launch on March 5, 2014
February 24, 2014 – The Ottawa Grassroots Festival (OGF) will officially launch the 2014 festival on March 5, 2014 at Pressed, 750 Gladstone Avenue, from noon – 1:00 p.m.
The OGF will take place from April 25-27 at The Royal Canadian Legion, Montgomery Branch at 330 Kent Street, Ottawa. The headline performer will be award winning Canadian songwriter James Keelaghan. The full details of performers and workshops of Grassroots 2014, the festival's third year, will be available at the launch.
"We have pulled together an exciting festival of evening performances and free daytime workshops that is a celebration of some of the best original music in Canada and in the region," said Grassroots Festival Producer, Bob Nesbitt. "At the same time the free daytime activities provide many fun opportunities to participate in singing, jam sessions, dance, instrument making and art workshops. It is a festival for anyone with curiosity and a heart."
At the launch, the Bytown Ukulele Group will entertain as guests arrive. Ottawa City Councillor, Diane Holmes, will speak followed by Bob Nesbitt. The festival theme song will debut through a video and sing-along engaging everyone with its infectious melody. Local musician, Maxim Cossette, wrote the clever toe-tapping theme song and will perform it live on the Saturday evening of the Festival.
On Saturday, March 8th, International Women's Day, Laura Smith, winner of two East Coast Music Awards and two Juno nominations, will perform at the Fourth Stage, National Arts Centre. in a fundraising concert for the benefit of the Ottawa Grassroots Festival.
The OGF is a family-friendly gathering of folk music, dance and spoken word. It's called Grassroots because it is! This not-for-profit organization is run entirely by volunteers.
Media contact:
Bob Nesbitt, Cell: 613-794 9161, Email: nesbittr@sympatico.ca
For more information:
Website: 209.15.208.86/~ottawagrassroots
Facebook: https://www.facebook.com/pages/Ottawa-Grassroots-Festival
Twitter:     https://twitter.com/OttGrassroots
"The Ottawa Grassroots Festival: Cultivating Community."
– 30-