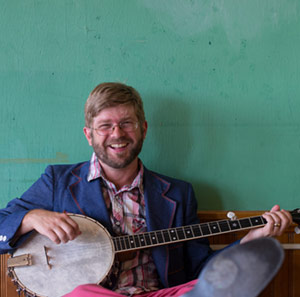 Ottawa, ON – December 9 2014: Old Man Luedecke, a multi-Juno award winning roots singer-songwriter from the east coast, has been announced as the Friday evening headliner at The 2015 Ottawa Grassroots Festival (OGF). The four day festival takes place at the Royal Canadian Legion, Montgomery Branch, at 330 Kent Street, April 23-26, 2015. Luedecke's latest, acclaimed studio album, Tender Is The Night, is rich in metaphor, heart and instrumentation and muses on love, art and purpose. "The songs are about a variety of topics, a meditation on art and ambition is present in a lot of what I do. Art and whether there is spiritual success without worldly success, that's at the heart of Tender Is The Night," says Luedecke.

"People will really enjoy Old Man Luedecke's unique ability to meld folk, bluegrass and pop with his storytelling talents," says Bob Nesbitt, OGF Producer. "His songs are playful, coy, and soul warming." "With the caliber of performers slated for the festival, you will want to get your tickets as soon as they are available in the new year. There is more exciting news to be announced very soon. This festival is guaranteed to become a staple in your music diet," Nesbitt enthused.
The Ottawa Grassroots Festival is a family-friendly gathering of folk music, dance and spoken word. Grassroots is a unique experience, accessible and indoors with free daytime activities designed to appeal to all ages, featuring workshops, sing-alongs, special kids' activities, an instrument petting zoo, jam sessions, a Festival Choir, folk dancing, instrument building and much more. Evening performances will be ticketed. Follow the latest line-up and performers news on the OGF website, Facebook and Twitter." It's called Grassroots because it is! This not-for-profit organization is run entirely by volunteers. 
The Ottawa Grassroots Festival continues to attract followers from communities throughout the National Capital region and Ontario. Join us in April and experience it for yourself!