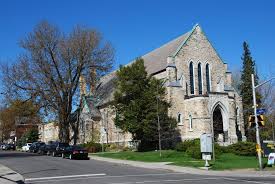 FOR IMMEDIATE RELEASE
The Ottawa Grassroots Festival Moves to a New Location in 2016
August 11, 2015 – The Ottawa Grassroots Festival (OGF) will be moving to Old Ottawa South in 2016.  Now in its 5th year, it will take place from April 21-24 at The Southminster United Church, 15 Aylmer Avenue, Ottawa.
"The festival continues to experience growth every year and the new location will provide us with more workshop rooms and larger capacity seating for performances" says Bob Nesbitt, Producer of the Ottawa Grassroots Festival.  Festival patrons and volunteers will be very pleased with the venue's amenities. Wheelchair accessibility, dedicated green room, dedicated  room for volunteers, better transit, parking and food options, along with access to a full kitchen are just a few of the benefits of the new location.
"It's a great space and we're lucky to have secured it in a milestone year for the festival. We have also secured the Saturday headliner, an icon in the Folk music scene and a real crowd pleaser!" exclaims Nesbitt. More information regarding the headliners will be released in late Fall 2015.
The move to the new location is bittersweet for OGF organizers with the recent closing of the Ottawa Folklore Centre (OFC). The church is located across the street from the OFC on Bank. "We will miss our friends at the OFC and the Montgomery Legion", says Nesbitt. "The Centre and the Legion have been strong supporters of the Ottawa Grassroots Festival, from the very beginning. We hope that they will continue to be involved.  They will always be welcome at the festival."
The Grassroots Festival is a family-friendly gathering of folk music, dance and spoken word. The festival creates inclusivity, encourages participation, respects volunteers, supports artists and develops community partnerships. It's called Grassroots because it is! This not-for-profit organization is run entirely by volunteers.
Media contact:
Bob Nesbitt, 613-794 9161, e-mail:  nesbittr@sympatico.ca
For more information:
Website: ottawagrassrootsfestival.com
Facebook: https://www.facebook.com/pages/Ottawa-Grassroots-Festival
Twitter:     https://twitter.com/OttGrassroots