FOR IMMEDIATE RELEASE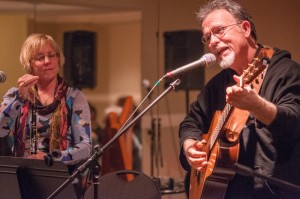 Much Loved Community Builders Headline The Ottawa Grassroots Festival in April 2016
November 23, 2015 – The Ottawa Grassroots Festival (OGF) is pleased to confirm that singer/songwriters and multi-instrumentalists, Arthur McGregor and Wendy Moore, will headline the Friday night (April 22) at the festival in Old Ottawa South, along with a few special friends. Now celebrating its 5th year, the festival will take place from April 21-24, 2016 at a new venue, The Southminster United Church, 15 Aylmer Avenue, Ottawa.
The recipient of the Unsung Hero Award for this year's Canadian Folk Music Awards (CFMA) in November and founder of the Ottawa Folklore Centre, Arthur McGregor has made it his mission in life to bring music and people of all ages together, in accessible and affordable ways. Other notable awards he has received are the Helen Verger Award (municipal) and the Estelle Klein Award (provincial).  McGregor has been performing on stage, since he was 12 years old and later in life, together with his partner Wendy Moore, in the Celtic Rathskallions.
Wendy Moore is the founder, manager and one of the lead performers of The Celtic Rathskallions. She has also played the oboe and English horn with the Kingston Symphony for 10 years and is a published poet and short story writer. "I love bringing music, storytelling and step-dancing to elementary students, educators, and families all over the world. Such a wide range of audiences keeps us on our toes!" says director, musician, author and performer, Wendy Moore. The headlining performance of McGregor and Moore will include some musical friends that will be announced in the Spring.
"Arthur and Wendy have supported the festival since the very beginning" says BobNesbitt, Festival Producer. "The closing of the Ottawa Folklore Centre, this year, has been extremely hard on them and the community.  As is often the case, when one door closes, another one opens.   It's time for the community to give something back to the man who has given so much to all of us. "
Sophie Léger will open the Friday evening.  Léger is a singer-songwriter who weaves her luxuriant vocals together with solid instrumentation to form a rich tapestry of sound and emotion that delights, challenges and inspires audiences. The multi-instrumentalist (guitar, djembe, harmonica) animates her passionate poetry with rich harmonies and buoyant beats that expand contemporary folk and pop traditions.
The Grassroots Festival is a family-friendly gathering of folk music, dance and spoken word. It's called Grassroots because it is! Keeping the festival affordable is paramount to the not-for-profit organization, which is run entirely by volunteers. Participation is key at the festival with fun and entertaining daytime workshops that are free and loads of fun for everyone.
Media contact: Bob Nesbitt, 613-794 9161, e-mail:  nesbittr@sympatico.ca
For more information:
Website: ottawagrassrootsfestival.com
Facebook: https://www.facebook.com/Ottawa-Grassroots-Festival-210912422324113/
Twitter:     https://twitter.com/OttGrassroots
"The Ottawa Grassroots Festival: Cultivating Community."
– 30-