FOR IMMEDIATE RELEASE
Shout Sister Choir and Durham County Poets join headliner line-up in April 2017
November 30, 2016 – The Ottawa Grassroots Festival (OGF) is pleased to confirm that Shout Sister Choir led by Jody Benjamin and The Durham County Poets and will co-headline the Friday night (April 21) at the festival in Old Ottawa South. Now celebrating its 6th year, the event will take place from April 20-23, 2017 at The Southminster United Church, 15 Aylmer Avenue, Ottawa.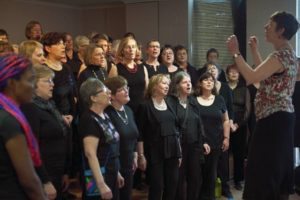 Shout Sister Choir numbers 100+ female singers. They sing a fun variety of music from pop and Motown, to folk, to a touch of country and blues and pack venues, wherever they perform. New members are welcomed into a warm and supportive community of singers, without the stress of auditions. The act of singing with others is both powerful and joyful and, while their choir fills the need for those new to singing in a choir, experienced singers will find the relaxed atmosphere and alternative repertoire a refreshing change.
"We have had the Shout Sister Choir perform at the Ottawa Grassroots Festival as part of our daytime programming, which is completely free to the public." said Bob Nesbitt, Festival Producer. "Their unique method of welcoming singers of all abilities is a winning formula and is a perfect match to what our festival values. They are a lot of fun and are back by popular demand!" exclaims Nesbitt.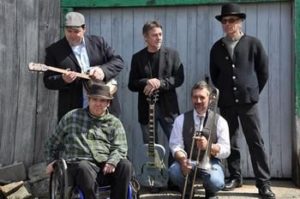 Durham County Poets are a lively and soulful five-piece folk and roots band from Southwest Quebec's Chateauquay Valley that performs an eclectic blend of blues, folk and rock with tinges of country, gospel and swing tossed in for good measure.  Its members collectively have more than a century of diverse musical experience – having previously played in blues, rock, country, Cajun and vaudeville outfits.
Reflective of the variety of genres its members have delved in over the years, the band's musical influences include a broad range of artists — The Band, Eric Bibb, Dire Straits, Jimmy Reid, Leon Redbone and James Taylor among them. All of the Durham County Poets are songwriters. Either individually or collaboratively, they compose a musical potpourri of ballads, gospel, blues and country-rock songs – making for varied sets while performing in concert.  The obvious joie de vivre they feel playing together is reflected in the good-time feel the Durham County Poets share with concert audiences and listeners to their two recordings to date — Where The River Flows (2011) and Chikkaboodah Stew (2014).
Upcoming line-up announcements for the opening night of the festival, showcasing Franco-Ontarian performers is expected by mid-December. This festival values inclusivity and one can look forward to a mosaic of musicians offering rich performances that will ultimately expand your musical palette.
Tickets for Ottawa Grassroots evening performances will be available online before Christmas. They are priced to be affordable for families (children 15 and under are free when accompanied by an adult). The daytime events on both Saturday and Sunday are FREE for everyone!
The Grassroots Festival is a family-friendly gathering of folk music, dance and spoken word. This not-for-profit organization is run entirely by volunteers and prides itself for the participatory workshops it provides, cultivating community and nurturing inclusivity in a fun and friendly way.
Media contact:   Bob Nesbitt, 613-794 9161, e-mail: nesbittr@sympatico.ca
For more information:
Facebook: https://www.facebook.com/pages/Ottawa-Grassroots-Festival
Twitter:     https://twitter.com/OttGrassroots
"The Ottawa Grassroots Festival: Cultivating Community."
– 30-