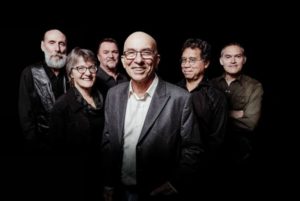 November 28, 2017 – The Ottawa Grassroots Festival (OGF) is pleased to confirm that legendary folk artist, Sneezy Waters and His Very Fine Band, will headline Friday night (April 27) at the festival in Old Ottawa South. Now celebrating its 7th year, the event will take place from April 26-29, 2018 at The Southminster United Church, 15 Aylmer Avenue, Ottawa.
Sneezy Waters sang as a child in Ottawa's St. Luke's Church Choir and in the 70's in local coffee houses such as Café Le Hibou. After touring and performing in Japan and Hong-Hong, he returned home and began performing where he garnered the title of "Ottawa's first busker". Today he continues to perform to sold-out audiences here and across the country either solo or with His Very Fine Band consisting of Dave Bignell and Vince Halfhide – guitars; Ed Bimm – keyboards; Ann Downey – upright bass; and Peter Beaudoin – drums. They play an eclectic range of music from many genres and eras, blending jazz, blues, folk, country, rock, reggae and even African music.
"There is no shortage of amazing and talented musicians and singer/songwriters in the Ottawa area" says Bob Nesbitt, Producer of the Ottawa Grassroots Festival. "Having Lynn Miles and Sneezy Waters and His Fine Band part of the festival in 2018 will shine a spotlight on some of Ottawa's finest artists."
Headliners for the opening night of the festival will be announced very soon. As in previous years, the evening will showcase Francophone artists. This festival values inclusivity and one can look forward to a mosaic of musicians offering rich performances that will ultimately expand your musical palette.
Tickets for Ottawa Grassroots evening performances will be available online before Christmas. They are priced to be affordable for families (children 15 and under are free when accompanied by an adult). The daytime events on both Saturday and Sunday are FREE for everyone!
The Grassroots Festival is a family-friendly gathering of folk music, dance and spoken word. This not-for-profit organization is run entirely by volunteers and prides itself for the participatory workshops it provides, cultivating community and nurturing inclusivity in a fun and friendly way.