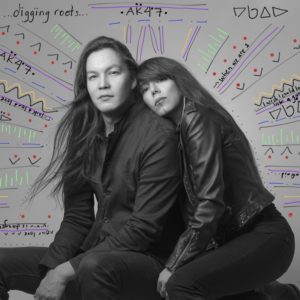 Passer à la version française …
The Ottawa Grassroots Festival (OGF) is pleased to confirm that multi-award winning folk rockers, Digging Roots, will headline Saturday night (April 27) at the festival in Old Ottawa South. The event will take place April 25-28, 2019 at The Southminster United Church, 15 Aylmer Avenue, Ottawa. First Nations power couple, ShoShona and Raven, are the creative team and inspiration behind Digging Roots. In creating music they utilize the traditional Anishinabek Song Lines composition technique of tracing melody and rhythm from the contours of the land. This traditional method of creating songs is paired with modern Eurocentric techniques of composition.
Digging Roots is a musical group that balances femininity and masculinity with Indigenous tradition and modern aesthetics. Their musical style blends folk-rock, pop, blues, hip hop with First Nation music. Engaging wider audiences to promote their Anishinabek music and cultural ideals is key to this band.
They won the Juno Award for Aboriginal Album of the Year in 2010 for their album We Are. Their JUNO nominated album For The Light (2015) brings global-blues infused songs and audience 'round dances' to their national and international tours. Digging Roots also took home The Canadian Folk Music Award for Aboriginal Album of the Year in 2015, along with the first Cobalt Prize for Contemporary Blues Composition at the 2015 Maple Blues Awards, garnering the grand prize for their song "Hwy 17". Raven and ShoShona are working on a new collection of songs scheduled to be released in April 2019.
Bob Nesbitt, the Founder and Producer of Ottawa Grassroots explains, "They have a growing international fan base, having traveled across Canada, U.S., Mexico, Europe and Australia. They are back and touring in Canada. Digging Roots has a unique sound, offering a twist on folk music. ShoShona and Raven are known for pushing the boundaries of several music genres, which is resonating well with their fans globally and I'm thrilled to have them perform at OGF2019!"
Online tickets and festival passes for Ottawa Grassroots evening performances will be available for purchase before Dec. 1 2018.  A priority for OGF has always been to keep it affordable for families (children 15 and under are free when accompanied by an adult). Early-bird pricing for the festival pass is $55 until Jan. 31 2019. Starting Feb.1 2019, the pass will be $59 (online); $60 at the door.  Ticket prices for individual nights are: $20-Thurs., $30-Fri. and $35-Sat. The daytime programming on both Saturday and Sunday are FREE for everyone!
"It is really important that we keep this festival as affordable as possible" explains Nesbitt. "The costs associated with delivering an event like this have increased including the calibre of the artists. It's always a tough decision when it comes to raising prices. Providing an opportunity to buy the pass early at a discount for a two-month period will help to keep this event affordable as possible."
The Grassroots Festival is a family-friendly gathering of folk music, dance and spoken word. This not-for-profit organization is run entirely by volunteers and prides itself for the participatory workshops it provides, cultivating community and nurturing inclusivity and diversity in a fun and friendly way.
Media contacts:
Grace Smith:  media@ottawagrassrootsfestival.com
"The Ottawa Grassroots Festival: Cultivating Community."
– 30-