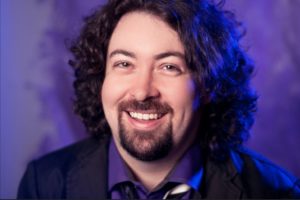 Passer à la version française …
December 12, 2018 – The Ottawa Grassroots Festival (OGF) is pleased to confirm that multi-award winning Franco-Ontarian artist, Dayv Poulin (Le Paysagiste), will headline the opening night (April 25) at the festival in Old Ottawa South. The event will take place April 25-28, 2019 at The Southminster United Church, 15 Aylmer Avenue, Ottawa.
Sudbury, Ontario native Dayv Poulin has been playing music professionally for over 20 years. Poulin has been entertaining crowds of all ages with his impressive, powerful-smooth vocals and an unbelievable variety of song selections. He has also played with French bands Konflit Dramatik and Les Chaizes Muzikales, and has been the musical director for La St-Jean in Sudbury and Canada Day at Science North.
For the past few years, this performer has focused his energy on his French solo project, Le Paysagiste, released three albums as well as numerous music videos. Poulin's most recent album release Le Paysagiste – Alchimie accidentelle was launched in March 2018. His second album Alter Ego, was nominated for 7 Trille Or awards (Franco-Ontarian music awards) and he walked away with the Best Album Producer award which he shared with the album's co-producer Stéphane Rancourt. Dayv Poulin was also awarded 3 major prizes after his showcase at the Contact Ontarois event, held in Ottawa in January 2018. These awards have brought this singer-songwriter to well established festivals in Ontario and Quebec, with potential for a 20 date European tour in the future.
Dayv Poulin and his show with Le Paysagiste delivers a soundscape of beautiful pop-rock, with elements of folk and country music to his audience. Whether he is performing with the entire band, as a trio or solo, his songs resonate with listeners and deliver an experience high in emotion and intensity.
"When you listen to Dayv Poulin's vocals, you know this Franco-Ontarian artist is on the cusp of something big," said Bob Nesbitt, the Founder and Producer of the Ottawa Grassroots Festival. "What an exciting performer to have open the festival and headline the Franco-themed evening at OGF. Years ago, I was cautioned that having an evening dedicated to showcasing Francophone artists at the festival wouldn't be successful", explains Nesbitt. "Attendance numbers speak for themselves, as our audience grows year over year. This, along with positive feedback from those who attend, equals success in my books!"
Online tickets and festival passes for Ottawa Grassroots evening performances are available via the festival website. Early-bird pricing for the festival pass is $55 until Jan. 31 2019. Starting Feb.1 2019, the pass will be $59 (online); $60 at the door. Ticket prices for individual nights are: $20-Thurs., $30-Fri. and $35-Sat. The daytime programming on both Saturday and Sunday are FREE for everyone!
The Ottawa Grassroots Festival is a family-friendly gathering of folk music, dance and spoken word. This not-for-profit organization is run entirely by volunteers and prides itself for the participatory workshops it provides, cultivating community and nurturing inclusivity and diversity in a fun and friendly way.
"The Ottawa Grassroots Festival: Cultivating Community."
– 30-