Passer à la version française …
FOR IMMEDIATE RELEASE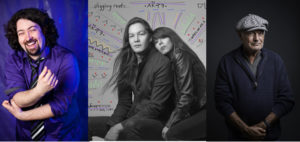 March 6, 2019 Ottawa ON – The Ottawa Grassroots Festival (OGF) celebrated their 8th launch event today to an eager group of volunteers, sponsors and fans at Irene's Pub in the Glebe, a spiritual home to artists and musicians for a quarter of a century.  Bob Nesbitt, Founder and Festival Producer revealed the full line-up of performers and workshops which celebrates Indigenous, Franco-Ontarian and iconic folk music with a beautiful spectrum of established and emerging artists of all ages. Performances by two local favourites, Jack Pine (Gareth Auden-Hole) and Jill Jeffrey provided musical interludes at the launch party.  The festival returns to Southminster United Church, April 25-28, 2019 in Old Ottawa South. It will close the circle of music at Irene's with a post festival after party Sunday evening, billed as a "Jack Pine and Grassroots friends" event.
The tradition continues at Ottawa Grassroots with a "Franco-night", which was introduced six years ago, in an ongoing effort to introduce French music to predominately English audiences.  Nominated for seven Trille Or Awards, Le Paysagiste, a French solo-project for Dayv Poulin, promises to deliver a soundscape of beautiful pop-rock, with elements of folk and country music to his audience. This headliner's songs resonate with listeners and deliver an experience high in emotion and intensity. Opening the evening will be Blind River, Franco-Ontarian, singer-songwriter, François Lemieux, who has performed for French and English audiences in concerts and festivals from coast to coast.  Lemieux has released an autobiographical collection of songs which tackles addiction problems, his emotional trauma but also reconciliation and healing.
Nesbitt has programmed two-themed nights for the 2019 festival. He explained, "The Saturday evening will feature an all Indigenous roster. I've been planning this for some time and I'm excited it has come together this year. ShoShona Kish, the female half of our Saturday night headliner – Digging Roots, organized and led one of the biggest events, the Indigenous Summit, at Folk Alliance International (FAI-2019). This summit made clear how important it is to have Indigenous content in a festival. We started programming Indigenous performers in our festival a couple of years ago, and here we are with an all Indigenous evening, which is something we are extremely proud of."
Multi-award winning folk rockers, Digging Roots, will headline the all-Indigeneous evening. First Nations power couple, ShoShona and Raven, are the creative team and inspiration behind this band.  They blend folk-rock, pop, blues and hip hop with Indigeneous music. Engaging wider audiences to promote their Anishinabek music and cultural ideals is key to this band. In addition to winning Juno and Canada Folk Music Awards, ShoShona Kish can now add the 2019 Spirit of Folk Award to the collection.
Algonquin Elder Albert Dumont will open the evening with an address/prayer.  He has released a new book of poetry Sitting by the Rapids. A special daytime workshop incorporating Dumont's poetry and music is in the works, also.   Actress, singer -songwriter, spoken word poet, and visual artist, Doreen T Stevens is a local Algonquin artist from Kitiganzibi, Quebec returns to Ottawa Grassroots to open for Digging Roots.
The Friday evening will be a celebration of folk music with the iconic and prolific Juno Award winner, Ian Tamblyn as the headliner. Tamblyn will be performing backed by top local favourites, Rebecca Campbell, Fred Guignon and Pat Mayer. For a rare performance, the Toasted Westerns, will reunite at the festival and warm the audience for Tamblyn.  This trio of multi-instrumental artists is Jody Benjamin, Sally Robinson and Ann Downey.
The total 2019 line-up reveals that Ottawa Grassroots has consistently had over 50% of their programming represented by female performers, since the event's inception in 2011.  Equality, diversity, inclusion and participation continue to be fundamental values for this community driven festival and "Participation is key to experiencing Ottawa Grassroots!" says Nesbitt.
Workshops announced include gardening with Mary Reid (Green Thumb Gardens), Inuit games, The Terry Penner Weekend Choir, jam sessions, Gil's Hootenanny Contest, sing-along song circles, an open stage event, KidZone and another festival favourite, a workshop for toddlers and babies. Without these engaging and fun workshops for the whole family, it would not be grassroots!
Confirmed as daytime performers at OGF2019 are Jazz duo, Karen Oxorn and Tim Bedner, Nona Grandea, and Canadian Folk Music Award's 2008 Vocalist of the Year, Tannis Slimmon, performs with recording artist Lewis Melville.  A sixteen year old trick fiddler, Jessica Wedden backed by Jon McLurg, Jessica Pearson and the East Wind, Kevin Ecker, Pete Woods, Christine Graves, Mark Evenchick, Nina Peterson, Steve Kennedy, Dave Doron, Howie Hooper, and Jamie Anderson to name a few.
Online tickets and festival passes for Ottawa Grassroots evening performances are available via the festival website and physical tickets are available at both Compact Music locations.  A festival pass is $59 (online); $60 at the door. Ticket prices for individual nights are: $20-Thurs., $30-Fri. and $35-Sat. The daytime programming on both Saturday and Sunday are FREE for everyone!
The Grassroots Festival is a family-friendly gathering of folk music, dance and spoken word. It's called Grassroots because it is! This not-for-profit organization is run entirely by volunteers and prides itself for the participatory workshops it provides, cultivating community, embracing diversity and nurturing inclusivity and a fun and friendly way.
Media contacts:
Grace Smith:  media@ottawagrassrootsfestival.com
"The Ottawa Grassroots Festival: Cultivating Community."
-30-