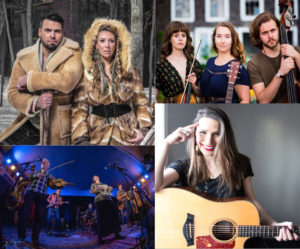 November 26, 2019 – Ottawa Grassroots Festival (OGF) is thrilled to announce the evening line-up for the 9th edition of this musical gem. Local favourites shine in this gender-balanced headliner roster which includes Twin Flames (April 25), Kristine St-Pierre, Jessica Pearson and The East Wind (April 23), and The Vanier Playboys (April 24). It all happens April 23-26, 2020 at the new festival venue: St. Andrew's Presbyterian Church, 82 Kent Street, centrally located with ample free parking.
Indigenous performances will fill the sanctuary on the Saturday evening. Albert Dumont, Algonquin Spiritual Advisor, returns to Ottawa Grassroots and will share poetry and an opening prayer. The folk-inspired sounds and social justice issues sung by Larissa Desrosier, an Anishinaabekwe singer\songwriter from Couchiching First Nation and Fort Frances , will open for the multi-award-winning band, Twin Flames. This Indigenous husband and wife duo is made up of Chelsey June and Jaaji. Jaaji is Inuk and Mohawk from Nunavik and Chelsey June, Métis (Algonquin Cree) from Ottawa. Twin Flames push the boundaries of "Contemporary Folk", with songs that incorporate Western and traditional instruments.
Opening night (April 23) will start with Newfoundland's Quote the Raven. Jordan Coaker and Kirsten Rodden-Clarke are firing far beyond their artistic age. Their complexities and depth are complemented by effortless syncing of styles and personalities. Bob Nesbitt , OGF's Festival Founder and Producer has programmed local favourites Jessica Pearson and the East Wind, along with Kristine St-Pierre and her full band in a double bill evening. Both acts have new releases to share with their fans. St-Pierre's soul-searching ballads and a rollicking bluesy flair, along with blends of folk, roots and East Coast bluegrass by Pearson will make for a delicious palate of folk flavours certain to get the audience moving.
If you love moving, Grassroots 2020 promises to get their Friday audience dancing . "Participation is key at Grassroots and the Vanier Playboys are up for the task. The audience will learn dance steps, then put them to practice", beams Nesbitt. "It will be a heap of fun." The Vanier Playboys is the only Zydeco band in Ottawa – made up of Ball & Chain and The Wreckers, plus Antoine Larocque, a great accordion player from Montreal. This evening opens with Maria Hawkins, who combines Roots, Blues, R&B and Funk and radiates energy and confidence with songs that are sometimes funny and always heartfelt.
"Grassroots fans will find Francophone artists woven throughout the 4-day festival programming", said Nesbitt. "I'm still committed to bringing the two music solitudes together". The full daytime roster will be revealed at the festival launch in February 2020.
Online tickets and festival passes for Ottawa Grassroots evening performances will be available on the festival website before Christmas. OGF continues to keep its pricing affordable for families (children 15 and under are free when accompanied by an adult). Early-bird pricing for the festival pass is $55. The pass increases to $60, starting Feb. 1 2020. Ticket prices for individual nights are: $25-Thurs., $20-Fri. and $35-Sat. Daytime programming on Saturday and Sunday is FREE for everyone!
The Grassroots Festival is a family-friendly gathering of folk music, dance and spoken word. This not-for-profit organization prides itself on the participatory workshops it provides, cultivating community and nurturing inclusivity and diversity in fun and friendly ways. Ottawa Grassroots is made possible by the dedication of over 100 volunteers working together to bring visitors a really special musical experience.
"The Ottawa Grassroots Festival: Cultivating Community."
– 30-