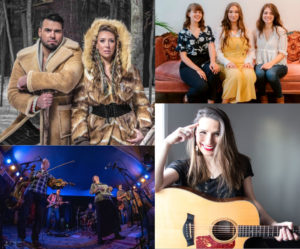 February 26, 2020 – The Ottawa Grassroots Festival (OGF) celebrated their 9th launch event yesterday with an impressive Tuesday afternoon crowd at the iconic, Irene's Pub in the Glebe. Bob Nesbitt, Founder and Festival Producer, revealed another gender balanced roster of performers and workshops to eager volunteers, sponsors and festival supporters. Performances by Mia Kelly and Don Bray provided spirited musical interludes and a sampling of the local rich programming at the festival. OGF 2020 will take place from April 23-26, 2020 at its new location, St. Andrew's Church, 82 Kent St. (at Wellington), in Ottawa Centre.
Nesbitt officially released the full line-up which celebrates the incredible talent residing within the Ottawa/Gatineau region. "I'm really excited about the partnership Grassroots has made with the Performing Arts Program at Algonquin College. The talent night winners will be performing at the festival and I have arranged for a mentor for each of the winners to help them prepare for the debut performance at Grassroots and make them feel at ease." said Nesbitt. "It's great to see so many people here today…our best turnout ever!"
Guest speaker, Teri Loretto, an Algonquin College Professor, CBC's media weather team member, and fill in host of In Town and Out, spoke of the importance in offering students opportunities to perform, network and build connections in the community. "There is so much talent in this area…diverse talent that is underappreciated. The Grassroots Festival has filled a niche in our festival circuit locally that I think is extremely necessary." Loretto continues, "ACES (Algonquin College Entertainers Showcase) will see 30 students competing for three spots and they will be paid, which is generous beyond generous… It's places like the Grassroots Festival that offer a safe, positive, nurturing environment for the artists of tomorrow…The college is excited…The partnership is strong and if this goes well, next year we want to open up the competition to our Indigenous Pathways students and the Music Industry Arts Program." Teri Loretto announced two of the celebrity judges as Rebecca Noelle (The Peptides and 1st runner up of La Voix in 2019) and David Yazbeck (Ravenlaw partner, CKCU radio host of the Thursday Special Blend and FACTOR judge). The third judge will be announced soon. Rowena Pearl, musician and popular music teacher, emceed the launch. She kept the event flowing smoothly with her infectious enthusiasm.
Grassroots' evening programming announced in late 2019 showcases top local favourites. The 2020 festival kicks off with a high energy co-headliner program featuring bilingual, folky songstress Kristine St-Pierre and Band and the sounds of folk infused, roots, East Coast bluegrass of Jessica Pearson and the East Wind. Newfoundland's folk pop duo, Quote the Raven are opening the festival with their smooth melodies and lush harmonies.
The Friday night (April 24) line-up is sure to get your feet tapping and your hips swinging with the Vanier Playboys, Ottawa's first and only Zydeco band. Zydeco music mixes blues, R&B, reggae, and rock from SW Louisiana and East Texas with influences from Africa, the Caribbean and Native American cultures. Their set begins with a Zydeco dance lesson for the audience which they can practice once the band begins! The "blues lady" singer/songwriter, Maria Hawkins opens this Ottawa rich night of performances
Multi-award-winning husband and wife folk duo, Twin Flames (Chelsey June and Jaaji) headline an Indigenous experience Saturday evening at Ottawa Grassroots. Algonquin Elder Albert Dumont opens the evening delivering a prayer/address followed by Larissa Desrosiers, an Anishinaabekwe Singer/Songwriter from Couchiching First Nation in Treaty #3 offering a blend of folk-inspired sounds highlighting Indigenous issues.
Daytime performers confirmed are The North Woods, the Ottawa Baroque Consort, From Away, Janice Jo Lee, David Mayerovitch and JP Lacroix, Orit Shimoni, Don Bray, Sjef Frenken, Chris White. Mia Kelly, and trick fiddler, Jess Wedden. Anne Hurley and Jim Videto perform with Kate Marshall Flaherty. The festival also welcomes Eric Bawden (Spoken Word) and Devianterra (Sophia York Band).
The free daytime programming remains true to Ottawa Grassroots fans with engaging, fun-filled workshops for all ages in a family friendly way. A Saturday afternoon song circle featuring the evening headliners is always a big hit at the festival. Look for Gil's Grassroots Hootenanny, Neptune Music's Workshop, KidZone with Selina Bishop and Babies & Toddlers participatory workshop – with Kristine St-Pierre to draw musical inspiration. Open Stage with Sjef Frenken, Local Colour and a Jam Session with Paul Spafford are returning highlights. There are three spots yet to be announced that will be filled by the ACES variety show winners, to be held on April 9th, at Algonquin College.
Online tickets and festival passes for Ottawa Grassroots evening performances are available via the festival website. A festival pass is $59 (online); $60 at the door. Ticket prices for individual nights are: $25-Thurs., $20-Fri. and $35-Sat. The daytime programming on both Saturday and Sunday is FREE – no tickets required!
The Grassroots Festival is a family-friendly gathering of folk music, dance and spoken word. It's called Grassroots because it is! This not-for-profit organization is run entirely by volunteers and prides itself for the participatory workshops it provides, cultivating community and nurturing inclusivity in a fun and friendly way.
Media contacts:
Bob Nesbitt: Bob@ottawagrassrootsfestival.com
Grace Smith: media@ottawagrassrootsfestival.com
Algonquin College:
Teri Loretto: lorettt@algonquincollege.com