by Grace Smith, President, Ottawa Grassroots Festival on behalf of the Board of Directors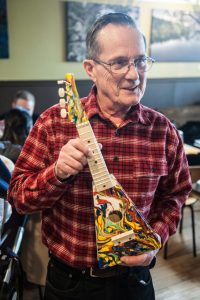 It is with profound sadness, that the Board of Directors of the Ottawa Grassroots Festival announces the passing of Bob Nesbitt, our beloved Founder and Festival Producer. After less than a year of living fully while embracing a life limiting cancer, Bob passed away quietly with his wife, Susan, by his side. We take comfort in knowing he was able to have a final visit with his son Pat, his daughter Karen, grandson Jake, and daughter-in-law Nancy. Our condolences go out to his wife Susan Gick, the whole Nesbitt family (Pat, Karen, Nancy, and Jake), stepchildren Vivienne and Paul, and the Gick family (Mary Gick, Chris White, Shelagh Gick).
We will deeply miss Bob as a friend, leader, mentor and positive force in our community. He will be in our hearts always. His warmth, caring and commitment will continue to guide us every step of the way as we keep his vision alive.
Bob and volunteering have become synonymous. There are very few people who make selfless acts to give back to the community a priority in their lives and commit to it whole-heartedly. Bob sure did! He often spoke of the pure joy he experienced while volunteering at an elementary school in Richmond, Ontario where he would help children in Grade 1 learn about computers. It didn't matter how busy his schedule became. Under no circumstances would he miss his volunteering with the kids. They loved him and looked forward to his weekly visits. On more than one occasion, he admitted the smiles and hugs he received helped take his mind off the arthritic pain he endured.
His passing leaves a massive void in the Ottawa Folk music community. In his early years, Bob worked in the construction industry. Building was a passion of his and those skills became invaluable during his time working as the Site Manager at the Ottawa Folk Festival. Not only was Bob a master at building and the tear-down of stages, he was a master in building solid relationships with volunteers, the community and all those he met. He garnered the respect of people he worked with, especially his volunteers. Bob can be remembered as the Pied Piper of volunteers. When other music events needed his help, he would not let anyone down, bringing with him a contingent of dedicated helpers in tow. Bob nurtured relationships with his volunteers and he never missed an opportunity to thank them and ask them how they were doing. His gratitude has fuelled so many of us!
He forged a solid partnership with the Catholic Centre for Immigrants (CCI) and worked tirelessly to bring new Canadians into the welcoming arms of the Ottawa Grassroots family. For some, it was their first volunteering opportunity in Canada. Bob would go to the Centre to meet them, offering encouragement to come to the festival where he knew that friendships would blossom, and they would be embraced by the community spirit of Grassroots. Many continued to return year after year with bigger smiles. Some were musicians in their homeland and Bob would schedule them into the line-up, bringing the beats of World music to our event.
The Ottawa Grassroots Festival was born with Bob's character, work ethic and passions, and in 2021, it is in its 10th year. Bob, along with a dedicated group of volunteers, filled a gap by creating a unique event which would bring the folk music community together in song. It would be welcoming of all ages, all abilities, all genders, all cultures and a fully accessible annual family-friendly celebration. Inclusion, diversity and equality were key values right from the start. While gender balanced programming became key buzz words in recent years, Bob Nesbitt programmed Ottawa Grassroots to be gender equal from the very beginning. Participative workshops like building ukuleles, jam sessions, a baby and toddlers' interactive hour, a community choir, an open mic, have always been critical components to this festival. Bob believed attending a music festival should not only be to sit and listen. There should be activities and opportunities to learn, connect and build friendships.
Introducing French language music to predominately English-speaking audiences was a driving force in Bob Nesbitt. His plan was set in motion by programming an annual Franco-Ontarian night to open Ottawa Grassroots. He collaborated with Mark Delorme to showcase Franco-Ontarian artists little known by the Anglophone Grassroots crowd. Even though this was a decision to swim against the current, the challenges did not faze Bob. He was determined to bring the two music solitudes closer together. His efforts were not in vain, as now, those who attend OGF regularly discover talented local Francophone artists alongside Anglophone artists throughout the festival. Bob was proud to set the example for other festivals to follow by showcasing artists, performing in both of our official languages and of many ethnicities.
A festival highlight for Bob were the performances by community music groups involving children and new immigrants. He loved scheduling these performers to open the biggest night of the festival. The Sparrows (a home-schooled group of children, ages 4-11), led by Chris White and the One World Choir/World Folk Music Orchestra (adult's and children's voices from Syria and Africa) were audience favourites for Bob. He always said their huge smiles energized him at a time when exhaustion was setting in.
The inclusion of Indigenous voices at Ottawa Grassroots became a top priority for Bob Nesbitt. He began to invite Indigenous, First Nations and Inuit Peoples to perform at the festival. Next, he invited Algonquin Elder, Albert Dumont, to open Saturday evening performances with an address/prayer. Bob knew how important it was to include the music, stories and poetry from these communities in the festival. We all needed to come together, learn and begin the healing. Within two years, Bob had programmed an entire evening to showcase the talents of Indigenous artists! And, over the years, Bob and Albert grew a deep, lasting friendship. Albert's tribute to Bob can be found here. Our friend Albert Dumont will always have an important role within the Ottawa Grassroots community and the festival itself. Having an all-Indigenous evening of song is a proud accomplishment for our festival and we have Bob Nesbitt to thank for this. It was his determination and vision in knowing this was the right thing to do.
Ottawa Grassroots has always featured established professional and emerging artists who perform genres of Folk, World, Jazz and Spoken Word. This speaks to Bob's incredible capacity to connect with musicians and singer-songwriters. Bob recognized and encouraged artists to appear live at Whispers Café, where he was the sound engineer at the Open Stage for many years.
Ottawa Grassroots' partnership with Algonquin College Performing Arts program is another example of Bob's commitment to offer youth opportunities to develop their craft. In 2019, the festival established an event called "ACES – Algonquin College Entertainer Showcase." Students in the program were asked to perform before a juried panel. For some, it was the first time performing in front of an audience. The prize was an opportunity to perform at the 2020 Festival. Due to the pandemic, the festival was cancelled but Bob arranged for the winning entertainers' video submissions to be featured on the OGF website. Bob knew that by giving these students exposure, it would build their self-confidence and encourage them to continue their careers in the Arts.
It was not only emerging artists and youth, to whom Bob provided opportunities for growth, he would also encourage volunteers to assume roles even if they didn't have any experience or the confidence to take on the work at first. "You will make mistakes. You will learn. And I'll be there to help guide you," he said to more than one volunteer. And yes, we learned and thrived with his support. He always had the ability to see the potential in people even if they did not see it in themselves.
He leaves behind a life well lived and a legacy in this festival. Despite his health challenges, Bob insisted on being involved in the planning of the 2021 event right to the end, ensuring there was a solid transition to Alison Bowie, in her new role as Festival Producer. Rest assured, all who attend the Ottawa Grassroots Festival – April 23-25, 2021 – will experience Bob's vision for the virtual event. The festival will continue to include the music, songs, stories and poetry which have always been of great importance to Bob. We know he will be right there beside us, guiding and helping to plan our future events.
In the weeks ahead, we will be looking at the best way to honour Bob Nesbitt during the festival and beyond in close collaboration with Bob's family. Nothing would make Bob happier, or grin from ear-to-ear, than knowing the 2021 edition of the Ottawa Grassroots is bringing everyone together, virtually, in celebration and knowing he has left the festival on solid ground for the foreseeable future for all to enjoy.
We love you Bob and will miss you tremendously. Rest in peace, dear friend.
For those who wish to make a donation in Bob's memory, his wife and family have selected the Ottawa Grassroots Festival, University of Ottawa Heart Institute and The Canadian Cancer Society.
Condolences may be offered on Bob's In Memoriam page
There will be a tribute to Bob on CKCU 93.1 Canadian Spaces (10am -Noon), hosted by Chris White.