OGF Goes Virtual Over The Weekend Of April 23-25
Tickets & Passes On Sale Now
The Ottawa Grassroots Festival (OGF) prepares to welcome music lovers across Canada and the world, to its 2021 festival, occurring entirely online over the weekend of April 23, Friday, through Sunday, April 25.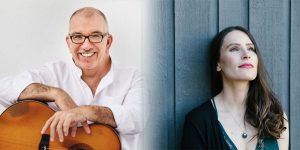 Attendees of this year's festival will be able to enjoy the weekend's events virtually from the safety of their home or bubble. OGF is thrilled to announce the stellar line-up beginning Friday night, April 23 with Kristine St-Pierre livestream at 7:30 ET, followed by James Keelaghan livestream at 9:00pm ET. Tickets and weekend passes go on sale today at 10am ET, and range from $10 for an individual ticket to $20 for a weekend pass, plus ticketing fees. Learn more and purchase tickets here. The Festival is excited to present the 2021 edition online, in a safe and secure environment. Festival Producer Alison Bowie said this: "This has been a very tough year for everyone, particularly for those in the music business. Ottawa Grassroots Festival just lost our much-loved founder and producer, Bob Nesbitt. We are heartbroken. Bob worked on planning this year's festival until the very last day he possibly could. The entire OGF team is doing everything we can to make this festival a success in his honour. Taking OGF online is all brand new to us and it's been quite a journey. Bob was an amazing person and leader, we just want to make him proud." Tickets are $10/person or $15/family for each Friday and Saturday evening concert. A weekend Festival Pass is $15/person or $20/family. OGF will take place securely on zoom, which is viewable on any device that has a web browser (phone, laptop, computer, tablet, Smart TV, etc.)  One ticket per email address, ticket purchasers will be sent a confirmation of purchase and the link to WATCH the week prior to the festival. Tickets and passes are available for purchase NOW here.
---
Kristine St-Pierre
Ottawa based bilingual singer-songwriter Kristine St-Pierre, captivates audiences with her velvet voice and a folk-pop style all her own. Among her significant distinctions, Kristine was nominated for the 2018 Canadian Folk Music Award for Francophone Songwriter of the Year for her EP, La promesse. As well, she was nominated to the Ontario Country Music Association for Francophone Artist of the Year in 2018. The first single from that album, "La promesse," charted in the Top 10 of SiriusXM's FrancoCountry. In 2018 Kristine launched the official video for her feminist song, "Women," on International Women's Day. It has been viewed more than 4,000 times on Facebook. Known as a "songwriter with a traveling heart" Kristine sings her experience with passion, vulnerability and authenticity. In addition to several tours across Canada, Kristine has had the opportunity to perform her music in several other countries, Kenya, Nigeria, Congo, and most recently Ukraine. These experiences allow her to create ever closer links between her musical creation and her personal values of respect, inclusiveness and equality.
---
James Keelaghan
Called Canada's finest singer-songwriter by one of the most respected and lauded music journalists of the last 50 years, James Keelaghan is an artist who has proven to be a man for all seasons. As the calendar pages have turned, for almost a quarter of a century now, this poet laureate of the folk  and roots music world has gone about his work with a combination of passion, intent and intensity, and  curiosity. Fusing his insatiable appetite for finding the next unique storyline Keelaghan also forges his pieces  with brilliantly defined craftsmanship and a monogrammed artistic vision, making him one of the most  distinctive and readily identifiable voices of not only the Canadian scene, but as a member of the  international singer-songwriter community. Armed with a songbook that has enlightened and enthralled, and been embraced, by audiences  around the world, Keelaghan's life as an artist is one that is a perpetual journey on so many levels.
---
About the Ottawa Grassroots Festival (OGF)
The Ottawa Grassroots Festival  is a non-profit, community-based, volunteer-run organization dedicated to cultivating community at the local level through a vibrant annual festival of concerts and participatory workshops. The OGF is in its 10th year and was founded by Bob Nesbitt, and dozens of very talented volunteers. The 2021 edition of the OGF occurs over the weekend of Apr 23-25th entirely online! Follow us on facebook, twitter and instagram. Schedule for Friday Night – April 23, 2021 7:30 PM Kristine St-Pierre 9:00 PM James Keelaghan Tickets Pricing ? Individual Ticket-Friday Evening Concert ? CA $10.00 + $1.62 fee = $11.62 Family Ticket-Friday Evening Concert ? CA $15.00 + $1.93 fee = $16.93 Festival Pass per person ? CA $15.00 + $1.93 fee = $16.93 Family Festival Pass ? CA $20.00 + $2.23 fee = $22.23 *fees are to eventbrite for processing Online tickets and festival passes for the Ottawa Grassroots Festival evening performances are available via the festival website. Children 15 and under are free when accompanied by an adult. Purchase here
Media contact:
Kimberly Sinclair – Spincount kimberly@spincount.com The Ottawa Grassroots Festival: Cultivating Community.