The 2021 Ottawa Grassroots Festival Announces Headliners Jessica Pearson And The East Wind, Leela Gilday for the Festival's 2nd Day, Saturday, April 24
OGF Goes Virtual Over The Weeknd Of APR 23-25
Tickets & Passes on Sale NOW
The Ottawa Grassroots Festival (OGF) prepares to welcome music lovers across Canada and the world, to its 2021 festival, taking place entirely online over the weekend of Friday, April 23, through Sunday, April 25. Attendees of this year's festival will be able to enjoy the weekend's events virtually, from the safety of their home or bubble.
OGF is thrilled to announce the headliners for Saturday night, Jessica Pearson and the East Wind –at 7:30 ET, and at 9:00 ET, Leela Gilday hosts a Q&A Livestream followed at 9:30 ET by an exclusive pre-recorded performance.
Tickets and weekend passes are on sale now, and range from $10 for an individual ticket to $20 for a weekend pass, plus ticketing fees. Learn more and purchase tickets here.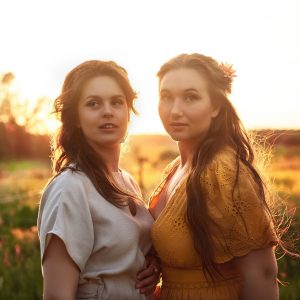 Jessica Pearson is a Canadian born storyteller with a voice like melting honey on a summer's eve. Accompanied by Maddy O'Regan on the fiddle, they bring to life tales of the past and express the beauty and heartbreak of the world today.
Their music blends folk, roots and East Coast bluegrass to create a unique sound of their own. From a cappella tunes sung in the middle of the audience to recollections of growing up in Canada, Jessica Pearson and the East Wind will take you on a journey with their dynamic live shows and entertaining story telling.
---
---
A passionate singer/songwriter and soulful performer, Leela Gilday has a voice that comes straight from the heart. Confessing her stories to her audiences with a gutsy voice and open stage presence, Gilday weaves her experiences as a northerner, a member of the Dene nation, and a traveler into a beautiful world that transports the listener.
If you're from the North, Leela's music is home. If you've never been, it will take you there. Born and raised in the Northwest Territories, she writes about the people and the land that created her. The power in her voice conveys the depth of her feelings of love and life in a rugged environment and vibrant culture, as if it comes straight from that earth. Leela's family is from Dél?ne on the shore of Great Bear Lake and her rich vocals dance across the rhythmic beats of traditional Dene drumming as smoothly as a bass line onstage the largest venues in the country. And she has played them all.
Leela has toured festivals and concert halls with her four-piece band through every province and territory in Canada. She has played in the United States, Greenland, Australia, New Zealand and several countries in Europe. Her live shows are where she connects with fans who have followed her for a 20-year career and where new fans are born. She reaches into their hearts and feels the energy of every person in front of her as she guides them on a journey through song and experience. She believes music has an inexplicable effect on people. It is a place where she can share light and dark and the most vulnerable moments, with a clarity and genuine purpose that reassures her listeners through every word. She is a storyteller, and through this, reflects the world onto itself.
---
Tickets and Festival passes pricing ?  On Sale NOW! Individual Ticket-Friday Evening Concert ? CA $10.00 + $1.62 fee = $11.62 Family Ticket-Friday Evening Concert ? CA $15.00 + $1.93 fee = $16.93 Festival Pass per person ? CA $15.00 + $1.93 fee = $16.93 Family Festival Pass ? CA $20.00 + $2.23 fee = $22.23 *fees are to eventbrite for processing
How to Watch:
OGF will take place securely on zoom, which is viewable on any device that has a web browser (phone, laptop, computer, tablet, Smart TV, etc.)  One ticket per email address, ticket purchasers will be sent a confirmation of purchase and the link to WATCH the week prior to the festival.
About the Ottawa Grassroots Festival (OGF)
The Ottawa Grassroots Festival  is a non-profit, community-based, volunteer-run organization dedicated to cultivating community at the local level through a vibrant annual festival of concerts and participatory workshops. The OGF is in its 10th year and was founded by Bob Nesbitt, and dozens of very talented volunteers. The 2021 edition of the OGF occurs over the weekend of Apr 23-25th entirely online! Follow us on facebook, twitter and instagram.
Media contact: Kimberly Sinclair – Spincount