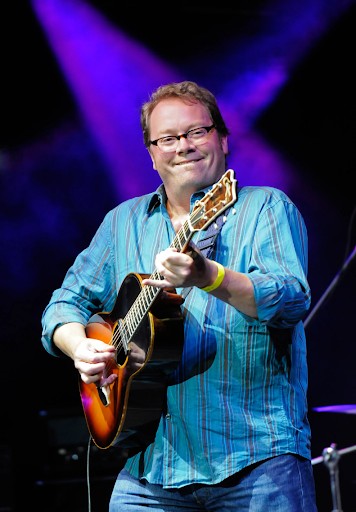 Rick Fines is playing the Ottawa Grassroots Festival, 
Saturday, April 23, 2022 at 7:30 pm
April 21 – April 24, 2022, The Ottawa Grassroots Festival is having live concerts after a two year hiatus. On Saturday, April 23rd at 7:30 pm, Rick Fines will be taking the stage and undoubtedly, will be playing songs from his Juno nominated album, Solar Powered Too. It was recorded with several musician friends, during the pandemic in his gazebo, at his cottage. From a place of isolation, a beautiful sound was born and Rick thinks it is his best work yet.
Not only was this album nominated for a Juno award in 2021, (Crystal Shawanda won, the first indigenous woman to ever win the award for best blues album), but this album has also, been nominated for three Canadian Folk Music Awards in Contemporary Album of the Year, English Songwriter of the Year and Solo Artist of the Year.  He was nominated for and won twice, two Maple Blues Awards for Acoustic Act of the Year and Songwriter of the Year. In 2003, with BB King as a judge, he won first place in the blues category for the International Song Writing Competition. He was nominated in 1991 for a Juno with his band, Jackson Delta. Several Thomas Handy Awards, round out the many nominations he has received, six noms for this new album, Solar Powered Too. The most he has ever had, not that he is counting. Like most musicians, he doesn't do it for the accolades. 
Not only was Solar Powered Too, written and recorded during the pandemic, but it was also recorded in his gazebo at his cottage, with the use of solar power. Despite these nominations, Rick is very humble and doesn't even feel comfortable calling himself a "Blues Man" He knows who the blues men are, and they are where he draws his inspiration. He doesn't feel that he is in the same league, but he is dead wrong.
His older brother, Mathew, gave him a guitar when he was just 12 years old. The first song he learned was a Bob Dylan tune, most of us are familiar with, Knocking on Heaven's Door. Neil Young was another huge influence for the young musician, learning a multitude of his songs. By 19 he was playing professionally. Forty-one years later, the 60 year old Fines, has turned out another stunning piece of work. 
He is grateful for his long career and the many different musicians he has met and worked with, over the decades. I asked him how he and his family survived when the pandemic took away his income, to which he replied "on a wing and a prayer". That sounds like a song. Like so many of us, he relied on the CERB to get by. The first year, he was able to sell just enough albums that he didn't qualify for the Canadian Emergency Response Benefit, but in the 2nd year of the lockdown, he did, and he is grateful.
He continues to write songs, some coming all at once, and others in bits and pieces, but always with the lyrics coming first. He hopes that he gets better with every song and he works on several at one time. He always has a book to jot down ideas or lyrics and pulls over to the side of the road, to record an inspiration that has come to him.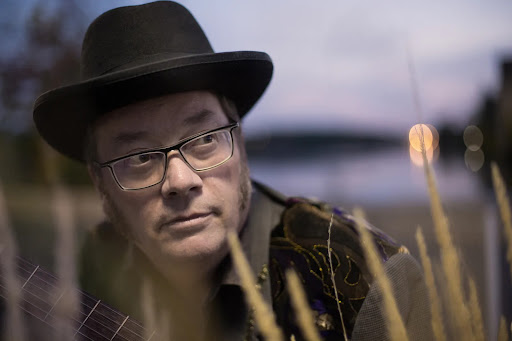 Rick is recording online workshops for Blues In The Schools program and has been doing so for the last 21 years. That, in and of itself, is an incredible accomplishment. I am certain that many children and youth have benefitted from having Rick as their teacher. 
The Ottawa Grassroots Festival is thrilled to have Rick play at St. Andrew's Presbyterian Church at 82 Kent Street in Ottawa, on Saturday, April 23, 2022 at 7:30 pm, followed by The Mavens. The festival starts onThursday, April 21, with The Blind and The Beautiful and Angelique Francis playing. Friday is Moonfruits and Twin Flames. Over 30 artists will be playing and offering workshops during the daytime. Irene's Pub will also have daytime events on Sunday. All daytime events are free for the public to attend (space is limited).
Get your weekend passes at: www.ottawagrassrootsfestival.com and join us for the 10th annual Ottawa Grassroots Festival, the first festival of the year! Let's get out and celebrate music and musicians, by supporting the many different festivals that Ottawa is known for. 
Rick Fines celebrates six nominations for his new album, Solar Powered Too. Check him out at the Ottawa Grassroots Festival taking place at St. Andrew's Church, 82 Kent Street in Ottawa, Ontario, Saturday, April 23, 2022 at 7:30 pm.
Laurie Bowen is a freelance Music Journalist, Scriptwriter and Author, based in the Ottawa area. http://www.laurielynnbowen.godaddysites.com