Author: Laurie Bowen
If you haven't heard about TWIN FLAMES yet, you are about to. Chelsey and Jaaji (pronounced YAAYEE), have just returned from Charlottetown, Nova Scotia, after Chelsey co-hosted the Canadian Folk Music Awards. Twin Flames won for Indigenous Song Writer of the Year and Vocal Group of the Year.
Their new album, Omen, addresses some of the darker sides of life, and was written over the last several years. When the pandemic hit, and all touring was shut down, they converted their walk-in closet, into a makeshift recording studio, and had their producer there, virtually. They were determined to get Omen completed. They joke that it was the best they could do with the limited supplies they could get, and the long line ups they endured, at their local Home Depot. Ordering the computer was another wait that dragged things on but they got it done, and will no doubt be sharing songs from this album at The Ottawa Grassroots Festival.
They built a stage at home, for their virtual, festival and school performances, and were doing 2-3 schools a day and have interacted with 90 thousand students so far. They start with a song and talk about when and why it was written. Both of them are sober, and they are open about sharing their struggles, which is inspiring. They are also working on a children's book series called, Maakusie Loves Music.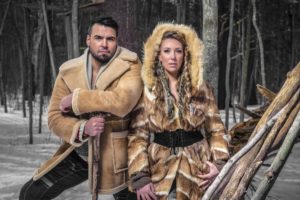 They are partners in life and in music and it is very important to them that they reach out to the youth. They visit schools, (virtually for the last few years) and share their own personal stories of culture and life as musicians. Neither Chelsey nor Jaaji saw themselves represented in media growing up, so it is important to them that they provide that for the indigenous youth.
Chelsey and Jaaji, have blended their families with six kids between them, ranging in ages from 10 to 26 and they credit their ex-partners for being great co-parents, while they work as musicians. It's the one thing about this business Chelsey dislikes, the sacrifice that it places on their family life. She feels blessed that she is able to do what she loves to do, after a previous career that just wasn't the right fit for her. Music brings joy, both to the musicians and to the audience. Jaaji agrees that it is the human connection and the way people respond to their music that fills him with awe.  He dislikes how the music industry segregates and separates by genres and creates unnecessary competition.
Something about Jaaji, that most people don't know, is that he is a lover of woodworking. Remarkably, Chelsey is dyslexic, in 3 forms, reading and writing, numbers and auditory. She was only diagnosed at the age of 27. Quite a remarkable feat, for a songwriter, and now an author. Others, with this condition, can look to Chelsey, and see that despite your disability, you can do anything that you set your mind to.
The Twin Flames chose their name based on the meaning of the word, that refers to the person, with whom you share a soul connection. The night they met, quite by "accident", singing around a campfire, when their voices blended together in a melodic melody, this friendship emerged and it's a beautiful love story. I hear they are pretty funny too, so get your tickets. It's going to be a night that you don't want to miss!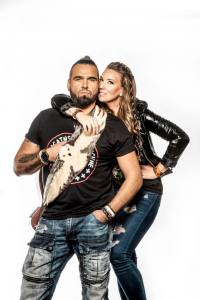 Laurie Bowen is a freelance Music Journalist, Scriptwriter and Author from the Ottawa area https://laurielynnbowen.godaddysites.com