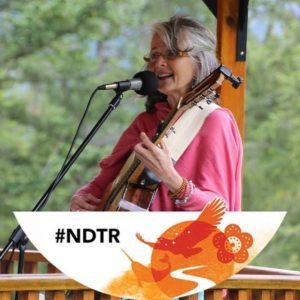 Come and join Chris MacLean, on Saturday, April 23, 2022, at 4 pm at, St. Andrew's Church on Kent St. in Ottawa, in her Grassroots Song Kitchen Community SING. She will be leading us in a round, a few harmony-rich pickup songs, and a favourite Woody Guthrie song. All singers are welcome! Chris leads two choirs, one near her home in Wakefield, Quebec, and one in Ottawa. As soon as the weather gets better, the choirs will all be held outside. There is just something about singing with others that is quite uplifting. 
She owned a house in Wakefield, Quebec, that used to be a youth hostel, and it had a huge kitchen. She had opened her home to participate in a cook off for The Blue Skies Festival, and they were singing as they cooked.  The idea that the kitchen is the centre of the home and having people sitting around singing, brings such joy. That is how the Grassroots Song Kitchen Community SING got its name. 
The last few years haven't brought much joy, especially for choirs, as the pandemic wages on. Chris kept her choirs going, online and resumed, in person rehearsals, in April, 2022. Chris believes that everyone can learn to sing and welcomes those who have been told that they shouldn't sing. No experience is necessary and there is no need to be able to read music. A desire and love for singing is all that you need to join the choir. 
Chris is an accomplished musician herself, with 3 albums, and is featured on a host of other artist's albums. She sounds quite a bit like her idol, Joni Mitchell, and her music can be found at https://chrismaclean.com/. A singer, songwriter and multi-instrumentalist, Chris is also trained in Voice Movement Therapy, part of the expressive arts, developed by now retired, British, Psychotherapist, Paul Newham. He wrote about it in his book, The Singing Cure – An Introduction To Voice Movement Therapy.
I am certain that singing in a group is most definitely a cure for loneliness and depression.  Most of us have struggled, in one way or another, during these last two years, and music is a universal therapy that we all can participate in. If you haven't gotten your tickets yet, you can get them here (https://ottawagrassrootsfestival.com/tickets). Don't be shy, and give singing, in a choir, a try.  What do you have to lose? I am sure you will gain something wonderful.