Author: Laurie Bowen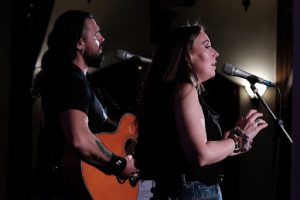 Chelsey June and Jaaji, who are Twin Flames, are incredible humans. Not only are they award winning musicians and songwriters, but they are parents to six young people between them and both are living a life of sobriety. They are funny too. Their banter on stage is hilarious. Chelsey June, said " I guess I have a lot to say, and that's why I was called a chatterbox in school but it paid off in my future, I guess, along the way." Music has an amazing power to bring us all together and to help us find our purpose and voice. She was extremely shy and suffered from social anxiety and music brought her out of her shell.
Native By Nature, is a song that she wrote when she was struggling with her own cultural identity and not fitting in. She realized that she doesn't have to fit it and it is better not to. She shared with us that growing up as an indigenous woman isn't easy. She is proud of her mixed heritage and realizes that it is better to stand out, then be the same as everyone else.
Jaaji (Pronounced Yaah Yee), introduced their song, Without Tears. He talked about how in their culture, you are not a man, until you catch a polar bear. That is the old way. Boys and men are taught not to cry. His father would say "No, be a man." His mother, on the other hand, embraced his tears and comforted him. He says that it is hard on the system to grow up like that, suppressing your feelings. It causes anxiety because it was taught, (in many cultures), that crying is showing weakness. "Showing tears, he says, is probably the strongest thing that a man can do.".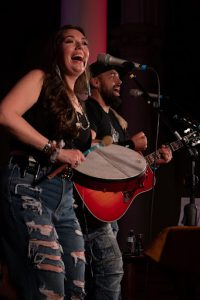 Their song, Grace Too, from their album, Omen, has made it onto commercial rock alternative radio in Canada. That is an amazing accomplishment as they share that as indigenous artists, they aren't taken seriously, in the music world. It is harder for indigenous artists in general. These two are kicking that door down.
Their voices blend together, like they were meant to be together. They sing in their native tongue and it is powerful. They have done hundreds of zoom workshops, with students, sharing their struggles with addiction and mental health. These two are mentors and role models for the indigenous youth, and that is something that they can be extremely proud of. They reach others through their music, the most powerful tool on earth.
Chelsey co-hosted the Canadian Folk Music Awards in April, 2022 where they won Vocal Group of the Year and Indigenous Songwriters of the Year. You can find their music and information about their upcoming shows on their website.