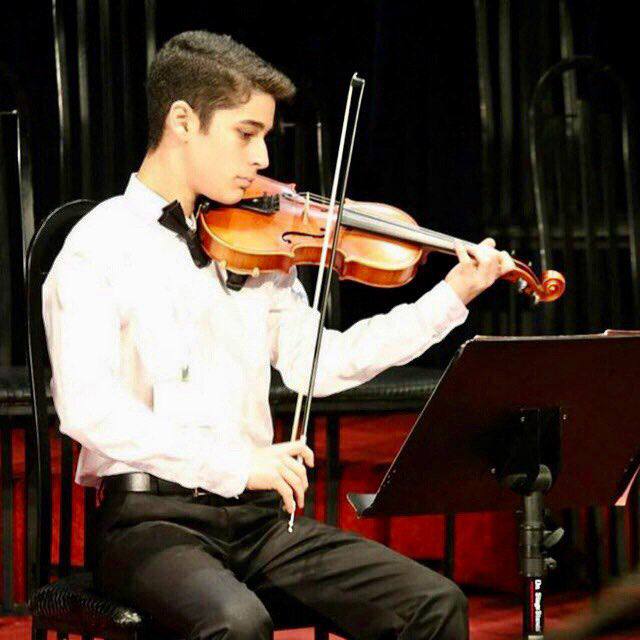 Alireza Tarviji, arrived in Canada in December 2020, as a student at the University of Ottawa. Studying for an Honours Bachelor of Arts in Music, the violinist has an impressive resume already, at only 19 years old. His dad (Mehei Tarviji), plays the keyboards and encouraged his only son to learn piano but Ali wanted to play the violin and so his parents relented. He hopes to become a Conductor one day. There is no doubt that he will. 
Like his mother, Sara Fatideh, who taught art to school aged children, he teaches music at ELAN, Quebec's Art Education, presents workshops to schools, the government and Learn Quebec. Last year, he started Vivo Trio, which consists of two violinists and one pianist. He plays in both the Ottawa Youth and Chamber Orchestra's and was involved with several orchestras in Iran. He even got to be a Conductor at a summer program in Iran for the Institute for the Intellectual Development of Children and Young Adults.
While he plays mostly classical music, he listens to folk music often and invites other musicians to join him while raising money for charities. He is doing a concert today which is a fundraiser for the earthquake survivors called Warm Concert and concert goers are to bring warm clothing and food to donate. Alireza is a compassionate young man and has been organizing many fundraisers for various needs throughout the world. He did one last Spring at his high school, for Ukraine, followed by one in the Fall called the Concert of Hope for Iran.
When speaking of his hometown in Iran he said, "the mountains are on one side and the sea is on the other." His parents remain in Iran but he is hoping that his mother will be able to travel in the spring to see her son play at the Ottawa Grassroots Festival. About the Grammy winning Best Song, Baraye, for Social Change by Shervin Hajupour, who is also from Iran, Alireza says it is indeed a revolutionary anthem due to the conceptual aspect of the words. The song went viral in less than 48 hours.
Ali (as his friends call him), will perform at Irene's Pub for the Ottawa Grassroots Festival Launch Party, on Wed. Feb. 15, 2023 from 4 – 6PM. The launch is open to the public and free to attend.
The Alireza Tarviji Ensemble includes professional musicians of DMA candidates, NAC and Ottawa Symphony orchestra members, along with the professional music students from Carleton and Ottawa Universities. The Ensemble is scheduled to play The Ottawa Grassroots Festival on Saturday, April 22. The festival runs from April 20 – 23, 2023. Tickets and passes can be purchased https://ottawagrassrootsfestival.com/tickets. Alireza Tarviji can be reached at http://Linktree.com/alirezatarvijiLaurie Bowen is a Music Journalist for the Ottawa Grassroots Festival and can be reached at laurielynnbowen@yahoo.ca.