Amanda Jordan is 19 years was crowned Miss South Eastern Ontario in 2015 and was selected as one of the Top Three Most Talented, in the Miss Teenage Canada Pageant, in Toronto. Amanda was invited to sing her original song "Carry You" written to support soldiers with PTSD on the final night of the Miss Teenage Canada Pageant at the Queen Elizabeth Theater in Toronto. This performance may be seen on her website at www.amandajordanmusic.com
History
Amanda has been singing literally since she was in her crib. We often tell a story about her when she was about 18 months old. The caregiver reported that Amanda was singing "Nobody Knows the Trouble I've Seen" while standing in her crib at age 18 months. At first we did not believe this but within in the next few days we heard her singing this song ourselves. With a little research we found that it was one of the songs on a nursery rhyme tape that we played for her each night before she went to bed.  We never did figure out what the trouble was that she had seen at such an early age.
High School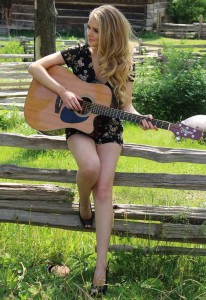 Amanda auditioned for and was accepted at and attended Canterbury School of The Arts in Ottawa where she studied vocal. We live is a small town called Smiths Falls which is about an hour and a half away from the school.  Each day Amanda traveled for two and half hours one way to get the school. She took a car then another car than a yellow school bus. She would get up at five in the morning to start her journey each day as she loved music so much.  In the last year there she was given a singer songwriter award by her vocal teacher Mr. Caswell. He joked with her that he had to create this award for her as they actually did not teach signwriting in the vocal program, at that time.
Song writing
Later that fall after graduating, her first country single hit the airwaves in Canada, called Letting "It Go Tonight." This song was about the difficulties of moving on after a relationship comes to an end.  The song did chart and people seemed to enjoy her music. Amanda writes music about important issues that she feels needs a light shone on them.  She writes about the importance of healthy relationships for teens in another song called Blindsided.  In another original music video, "Breathe Easy" , which is on her website, she writes about mental illness and the importance of supporting friends when they are going through difficult times. 
Acting
Amanda was cast as a singer in the movie Killing Daddy with Elizabeth Gillies from Victorious. The movie has been playing internationally on the Lifetime channel for over a year. Amanda appears about four times singing and playing her guitar. The movie company bought two of Amanda's original songs.
Charity Work
This summer Amanda produced a Youth Charity Talent Concert and invited talented youth from the community to perform in the beautiful Station Theater in Smiths Falls. She was fortune enough to have Tony Leadman head of the Discovery Channel as a co-host with her and as well the renowned photographer John Rowlands was on site to photograph the amazingly talented performers. John was an official photographer for Elvis Presley for four years and he was been the photographer for the Beetles, The Beach Boys, The Who and many other famous musicians. The profits from Amanda show went to Free The Children, Open Doors Mental Health and Niel Doef a young boy in the community who suffered a spinal injury during a hockey game.
Boots For Pups is a charity organization that trains service dogs for soldiers with PTSD. When she met the inspiring Major Nick Nicolas a 70 year old veteran this summer who decided to do a 13 day walk through the Rideau Trail from Kingston to Ottawa to raise funds for Boots For Pups she asked if she could write a song for his launch in Kingston this summer. She wrote Carry You which is a beautiful song that tells the trying story of solders suffering from PTSD. She performed this at the Miss Teenage Canada final evening of the Competition in the Queen Elizabeth Theater in Toronto and the live performance is on her website. This song brings tears to the eyes of many who here it and one soldier's wife in the audience that night reached out to Amanda and said this song must get to all the Canadian Bases. Amanda would like to do that for the soldiers.
In terms of other charity work Amanda has performed for the Brockville Palliative Care Telethon for several years each spring in Brockville.
Amanda has performed for the CTV Cheo Sick Children's Telethon for four years now and loves to entertain and be part of this incredible fundraiser in Ottawa each year.
Amanda also was invited this summer to perform for the Summer Olympic Torch Relay as it came through her home town of Smiths Falls and Neil Doef the young man with the spinal injury carried the torch in his wheel chair. Neil is having a remarkable recovery and is now walking. Amanda visited him in Aug to deliver the funds she had raised at the Charity Youth Talent Concert that she hosted and he walked to the door to greet her.
Amanda has also written a song called Got Your Back for a group of teen in Ottawa who suffer from Scoliosis. She performs each year at their charity fundraiser in Ottawa. In this photograph a special needs girl spontaneously joined her on stage to sing along.
Nashville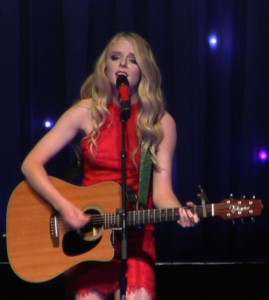 Last year Amanda enjoyed a couple of weeks in Nashville and she had an action packed time.  She performed on Nashville Spotlight which is a cable vision show.  She performed at the Wild wing cafe in a singer songwriter competition and she even sang at the Bluebird cafe on the open mic night. As well while she was there she made her music video for "Breathe Easy." She loves Nashville and can't wait to get back.
Going Forward
Amanda hopes to release her next single to country radio stations in the US and Canada in the next six months. She plans on spending some more time in Nashville in the spring when University is done to do some more song writing there and perhaps some co-hosting of Spotlight on Nashville. Here in Canada she is working on a cable TV talent show which is in its third year of production called Music Volume.  Amanda has been a co-host on that show and it was recently nominated for a provincial award. She has been invited to co-host a show called Innovative People and is hoping to pitch her own show to the Cable TV Channel called "Amazingly Talented Teens from the Valley", where she would interview a talented teen each week and have them perform.