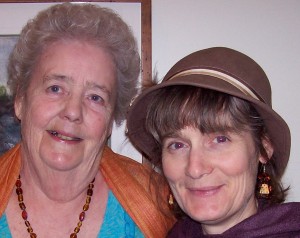 Donna Stewart and Ruth Stewart-Verger are storytellers with years of experience recounting tales of Canada's history. Donna Stewart has told stories on all three of Canada's coasts, and every where in between! Donna was given the title "Elder" by the Storyteller's of Canada/Conteur du Canada's national conference in 2003. Together they hold the position "co-past president" of the National Storytelling Association. Both have studied Canadian history, both are teachers (Donna retired), both have given performances workshops, and seminars on storytelling, and on conveying our countries history through oral story across Canada. Ruth has had the great good fortune to hear Donna's tales all her life.
Ruth uses stories daily in her classroom and in her work with new Canadians. She has facilitated workshops, conducted seminars and presented at symposiums and conferences on storytelling and the applications of storytelling. She has traveled across Canada telling stories, and finding new ones!
Ruth has recorded two historical tales about Canadian Women heroes and toured with them across Canada.
The stories we tell of Canadian Railways have been researched through academic texts, archives and the newspapers of the time, but they are heavily influenced by family stories we have heard all our lives!
The Almonte Train Wreck of 1942 is one such story. It was one of Canada's worst rail disasters, but the people of Almonte rose to heroic action to ensure that all who could be saved were saved!