CKCU FM 93.1… The Mighty 93!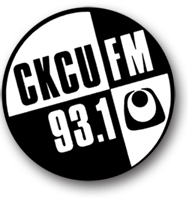 Founded in 1975, CKCU is a registered charitable organization that entertains and informs through the expertise and skill of more than 150 volunteer program hosts and ongoing involvement with the community.
Through exciting live performances, intriguing in-studio interviews, topical on-air conversations and active community involvement, CKCU has built a large base of loyal listeners. Programs are hosted live 24 hours a day, and feature a wide range of musical styles, cultures and points of view.
The program schedule includes some of the longest-running radio programs in Canada. The long list of popular programs includes "In a Mellow Tone", "The Back 40", "Saturday Morning", "Swing Is in the Air", "Black and Blues", "Reggae in the Fields", "Fundamentally Sound", "This Island Earth", "Window of Opportunity", "Aboriginal CKCU", "Wild Works", "Friday Morning Cartunes", "Barrio Latino" and "Music from the Glen". The weekday morning "Special Blend" programs offer topical, engaging community dialogue, and a variety of multicultural shows provide a sounding board that is important for many different groups. "Canadian Spaces", a folk music programs featuring Canadian singer-songwriters, has been hosted by Chopper McKinnon every Saturday morning for more than 31 years.
Visit www.ckcufm.com to view the complete CKCU program schedule, browse the online music library, see the "playlists" of the music played on every show, and interact with the program hosts in real time.
Based on a philosophy of active community involvement, CKCU founded the Ottawa Busker Festival in 1991. Three years later, CKCU station manager Max Wallace and singer-songwriter Chris White joined forces to create the Ottawa Folk Festival. Throughout the summer and during March Break, the station runs a popular Radio Camp for 9 to 12-year olds. CKCU provides free training and facilities to any community members interested in developing their skills and creating their own radio program. For more information, contact Chris White at 613-327-9621 or chris@ckcufm.com.