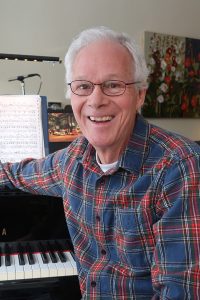 Choir Resources
If you are ready for some singing, learning, laughing and sharing, here is a wonderful opportunity.  The Grassroots Festival has asked Andy Rush to take on musical leadership of a choral project and is providing him with significant technical support.  Andy has chosen two uplifting, personal and musically interesting songs for us. 'Let All Our Hearts', by Jim Scott has a beautiful unison melody and rousing four-part harmony chorus. It is a great song for getting into the online choir game. Jim Scott is thrilled that we are doing this.  We will also sing Buffy St. Marie's 'Up Where We Belong' (we know, Bob Nesbitt our Grassroots Festival founder, loves Buffy and the song is so great!).
On Friday – April 23 the 2021 Grassroots Festival Choir will make its debut performing these two songs. There will be a little intro, and then we'll run our videos. There are LOTS of examples on the internet of what these multi window, multi singer, online choral projects look like.
This project is envisioned as a learning and sharing opportunity. We will help you with clear and easy instruction about how to practice and perhaps ultimately record your singing to submit to our editor Andrea.  Participants will be linked to a google folder with practice trax, practice videos, conducting videos, PDF files of the print music, and instructions for practicing and trying out your recording.   Andy will conduct live zoom rehearsals and practice sessions and, once registered, you'll be sent links to all of this.  It's all free. You can dabble, learn along, really dig in, submit a final recording or not, just enjoy the process… whatever.
You can participate at any level you choose. There is no audition and all voices are welcome.
Rehearsals will commence March 1 (new) with final video or audio submissions due March 24.
There are resources regarding the Virtual choir on the Ottawa Grassroots Festival YouTube channel.
https://m.youtube.com/channel/UCR2i0cF6_JI4oQSF9tj1jaw
Register now at this link – it's not too late to sign up
https://ottawagrassrootsfestival.com/virtual-choir-sign-up/
Register for the 2021 Virtual Choir Here | Choir Resources
Ottawa Grassroots – Live Streamed in 2021
The 2021 Ottawa Grassroots Festival will be a live streamed event. If the safety guidelines around COVID-19 change significantly, we will also live stream from Irene's Pub. The festival will run from April 23 – 25, and it will consist of two nights of ticketed concerts (Friday and Saturday), and two days of free daytime events (Saturday & Sunday). As a special thanks, this year volunteers will be admitted free, to the evening concerts!
Please save the date, folks!
We are excited to share the amazing line-up with you very soon!